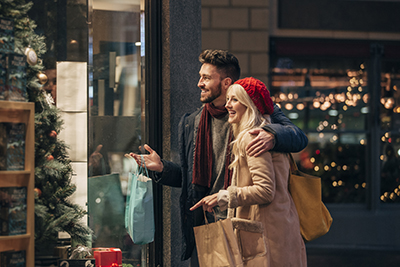 This year's holiday retail sales are likely to be muted, with growth of 1% to 1.5% compared to last year that will generate sales of about than $1.1 billion during the November to January timeframe, according to Deloitte's annual estimate for 2020.
However, e-commerce sales are expected to balloon by 25% to 35% year over year, and generate $182 billion and $196 billion, Deloitte said. During last year's holiday season, e-commerce sales grew 14.9%.
"E-commerce is likely to be a big winner because consumers have shown a clear movement towards buying online rather than at brick and mortar stores," said Daniel Bachman, Deloitte's U.S. economic forecaster. "While high unemployment and economic anxiety will weigh on overall retail sales this holiday season, reduced spending on pandemic-sensitive services such as restaurants and travel may help bolster retail holiday sales somewhat."
Deloitte's holiday forecast presented a "K-shaped" approach to thinking about the recovery in retail spending amid the COVID-19 crisis. That includes a scenario where anxiety holds sales down to 0% to 1% growth, as well as a rosier scenario of a 2.5% to 3.5% jump from last year.
The latter scenario may happen if consumer confidence is buoyed by factors such as an effective federal pandemic relief bill with an unemployment insurance benefit supplement, and the creation of an effective vaccine, Deloitte said.