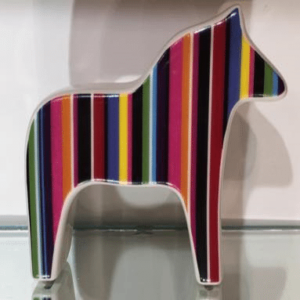 Cape May has one of the richest histories of any city in New Jersey. Did you know it's the nation's oldest seaside resort? That English Sea Captain Henry Hudson first documented the peninsula that is now Cape May in 1609? That Dutch Captain Cornelius Jacobson Mey landed there in 1620 and named the island "Cape Mey" after himself; later formally changed to Cape May? That the entire city was declared a National Historical Landmark in 1976?
Probably more germane to its residents and many visitors is the wonderful ambiance of the city with its beaches, marinas, shops, restaurants, art galleries, historic hotels and B&B's. There seems to be something for everyone to enjoy and if you happen to visit the Washington Street Mall you'll find Swede Things in America, a retail store devoted to selling Scandinavian-inspired artwork, items and gifts. The figurine pictured above is one such item. It is called the "Dalarna Horse" or "Dala Horse" for short and is one of the national symbols of  Sweden.
The store, an NJBIA member since 1986, was founded in 1986 by Dr. Preben Poulsen, who was born in Denmark but moved to New York City after graduating from college where he embarked on a 21-year career in management with Exxon. During this time, he met his wife, Barbara. After retirement in the mid 80's they moved to Cape May where they had vacationed many times.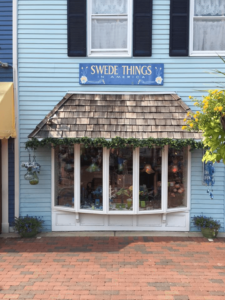 Barbara, who was born in Sweden but also emigrated to the US, was a professional artist by trade and when they opened the store it was her touch and flair that gave the shop its distinct old Scandinavian style, synonymous with the rich Victorian architecture of Cape May. They weren't sure the store would prosper but it did, finding a unique niche that has allowed it to not just grow, but thrive now for nearly 30 years.
It's also truly a family business as all three of their children have worked at the store and today their daughter, Katarina Poulsen-Stahl, is now the main manager of the shop. Of note is the fact that she met her husband-to- be when he worked at the store one summer – he was one of the Scandinavian students they bring over each year.
Katarina shared with me that their families love Cape May because the climate and general "feel" of it is very similar to where their many relatives reside on the coastline of Sweden. They make at least two trips a year to Sweden for business purposes as well as to re-connect with their extended family and their many former summer students, one of which they were able to attend her wedding.
Congratulations to the entire extended Poulsen family for their success, which has been well-earned. For more information about Swede Things in America, visit their website at www.swedethings.com, which is in the process of being redesigned but still has a great amount of information and pictures.  Or, if you're ever in Cape May, stop by the store and say "halla" to a fellow NJBIA member, which is Swedish for "hello."
Swede Things in America is just one of 20,000 companies that comprise NJBIA's membership, which is very diverse with representation from an amazingly large and wide spectrum of fields, industries and professions. Look for more unique stories about NJBIA members in future issues of "Beyond 10 West Lafayette," NJBIA's membership blog.