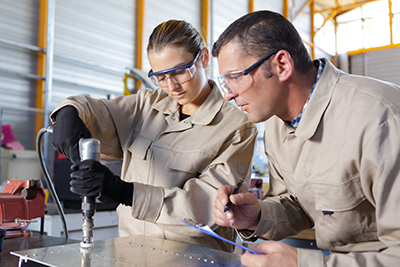 The world of work has been changed forever by the COVID-19, and New Jersey businesses should begin building their pipeline of future employees now through partnerships with county vocational-technical schools and community colleges. 
Aaron Fichtner, president of the New Jersey Council of County Colleges, and Judy Savage, the executive director of the New Jersey Council of County Vocational-Technical Schools, drove home that point in an op-ed published in NJ.com this week. 
Career and technical education has evolved over the past 20 years to offer new programs that support New Jersey's innovation economy in areas such as biomedical and health sciences, engineering, technology, and digital media, they said. In the past five years, 47 new career programs in key industries have been added, including advanced manufacturing, cybersecurity, and global logistics.  
New Jersey's 18 community colleges enroll more than 66,100 students in career-focused degree programs and provide workforce development training and continuing education to more than 100,000 adult students. Vo-tech schools and community colleges in each county work together to provide affordable education pathways that respond to the needs of students and employers, they said. 
"Employers can help county vocational-technical high schools and community colleges align curricula with the knowledge and skills they value," Fichtner and Savage wrote. "And working with their local career-focused institutions gives them access to a pool of motivated interns, apprentices and employees who are developing those skills in high school and college career programs." 
 To read the entire op-ed, and find out more about how businesses can partner with local county colleges and vo-tech schools, go here.