Starting today, workers can begin using the paid sick leave time they have been accumulating since the law took effect Oct. 29, 2018.
Gov. Phil Murphy marked the milestone at Princetel, a manufacturing company in Mercer County that had already been providing its employees with generous sick leave benefit prior to the law's enactment. Murphy said the 2018 law was aimed at helping the 40 percent of workers in the state who did not have this benefit prior to the signing of the legislation.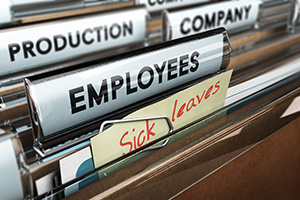 Under the law, full-time and part-time workers earn paid time off at a rate of one hour for every 30 hours worked, with the employer being given the option to advance its employees earned sick leave at the beginning of each benefit year. Workers began accruing sick leave Oct. 29, but the law allowed a 120-day waiting period before workers were eligible to use their newly accrued sick days.
"This law is improving the lives of many hardworking men and women and making New Jersey a healthier place to live and work," Murphy said Tuesday.
The law applies to most employers, regardless of business size. However, it does exempt construction industry workers that are under contract with collective bargaining agreement; per diem healthcare workers; and public workers that are already provided sick leave under another law, rule or regulation.
Under the law, employees may use earned sick time to care for themselves or a sick family member; to address issues related to domestic or sexual violence, such as seeking treatment or obtaining a restraining order; to attend a child's school-related meeting or event; or when schools, child-care centers, or businesses are closed due to a public health emergency.
Prior to the law's signing, NJBIA secured important amendments to reduce the impact on employers. These include: including limiting sick time to 40 hours per year, not 72 hours as originally proposed; a provision requiring the state law to pre-empt local sick time ordinances so that employers need only follow one statewide uniform policy; and the 120-day waiting period.
The Department of Labor and Workforce Development, the agency responsible for implementing the law, has embarked on a public information campaign to make workers and businesses aware of the law and provide them with guidance on how to follow it. More information on New Jersey's paid sick leave law may be found at www.mysickdays.nj.gov.
NJBIA has prepared a members-only Fast Fact resource guide that can be viewed here.