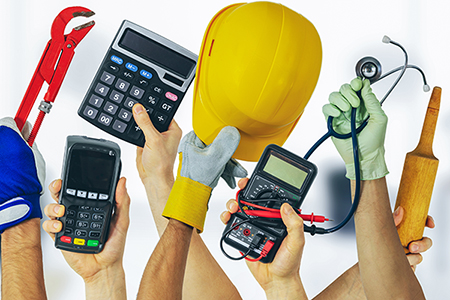 Collaboration with the business community is key to the success of two new workforce development initiatives, including a possible $20 million grant opportunity, aimed at forging more career pathways to well-paying jobs capable of supporting New Jersey families, NJBIA members were told on Wednesday.
At a joint meeting of two NJBIA policy committees, Department of Labor & Workforce Development Assistant Commissioner Lesley Hirsch expressed optimism that the state will secure the $20 million three-year federal grant for its Strengthening Training and Education Pathways (STEP) to Careers project.  NJBIA staff worked closely with NJDOL to draft the grant proposal for STEP, which aims to address gaps in the education and training pipeline that hinder people from advancing in careers.
Hirsch said STEP will be a collaborative effort involving multiple public and private partners from state, county and local government, educational institutions, trade schools, businesses, labor, and community organizations experienced with workforce development.
"Together, we are hoping to transform the educational and workforce development systems, marry those systems, and have them work hand-in-glove with the business community," Hirsch said.
The STEP initiative seeks to create clear pathways for obtaining educational credits and industry credentials needed for well-paying jobs capable of supporting families, Hirsch said.
"It's focused on people who've been negatively affected by COVID-19, and also people who have been systemically discriminated against in the past and people who are (living) in Opportunity Zones," she said.
DOL will be using various sources of "labor market intelligence" to select three to five linear career paths in each of these four industry sectors: healthcare; manufacturing; technology; and transportation, distribution and logistics (TDL), Hirsch said. Then DOL will take inventory of the opportunities that now exist in high schools, trade schools, community colleges and other post-secondary institutions to see which credentials and degrees align with those career paths, and where gaps and redundancies exist.
All of this education data will be uploaded to a national credential registry, which Hirsch said is one of the requirements for obtaining the federal grant, as well as New Jersey's Office of Innovation website.
Gary Altman, executive director of the State Employment and Training Commission, said the schools and other partners will be asked to look at the DOL data to fill the gaps in their programs. A competitively awarded sub-grant program would be created, targeting the four STEP industry sectors.
"We're not looking to invest this money in something that's already out there," Altman said.
For example, the creation of new apprenticeship programs in the healthcare, manufacturing, technology and transportation sectors that are part of the STEP initiative would be highly desirable, he said.
"There are many (opportunities) in the medical and science fields that we would love to see people explore to create these short-term credential-based programs," Altman said.
To help ensure the career programs don't end when the federal grant money is gone, Altman said one of the requirements of sub-grant applications will be sustainability.
"We want to see investment locally and regionally, not just money from this grant," Altman said.
Aaron R. Fichtner, president of the NJ Council of County Colleges, and Judy Savage, executive director of the NJ Council of County Vocational-Technical Schools, said their groups are working closely together to ensure that there are educational pathways for people regardless of their age or career stage.
The vo-tech schools and community colleges have launched the One Pathway Many Skills initiative to enhance educational opportunities for job-seekers "whether they are a high school student looking to build a career, or an adult who has lost a job or a career, or wants a change in direction," Fichtner said.
This collaborative initiative is especially important now because of the disastrous impact the pandemic has had on the economy, he said.
"The economy that we emerge into when this is all over will be very different than the economy we left behind, which means there will be many, many New Jerseyans who will need to retool and get new skills," Fichtner said.
"We want to make sure that our county vocational schools and our community colleges are working together with a lot of other partners to make sure that those educational and training pathways are there for people," he said.