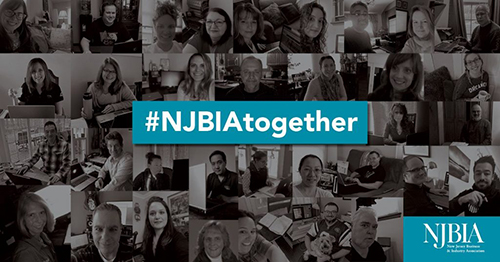 As New Jersey businesses face unprecedented challenges brought on by the coronavirus pandemic, NJBIA is highlighting some of the unique and uplifting ways NJBIA members are responding across the state. Share your good news story with us on social media at #NJBIAtogether or email us at communications@njbia.org.
---
Tinton Falls Printer Manufactures, Donates 30,000 Face Shields
Hatteras, a commercial printing firm headquartered in Tinton Falls, has donated over 30,000 face shields to front-line workers in New Jersey, New York and other states over the past four weeks, thanks in part to generous donors who contributed over $34,000 to a GoFundMe campaign to help cover costs.
Hatteras President Bill Duerr launched the GoFundMe campaign on April 5, and his company matches every dollar that is donated. This commitment has enabled the firm to create and donate more than 30,000 face masks to date while also keeping workers at the firm employed.
"On behalf of Hatteras and the frontline workers who've received donated face shields, we thank all contributors to our #PPE #GoFundMe campaign," Hatteras posted on its GoFundMe page. "We are humbled, grateful and impressed by the support shown, especially at a time when so many people in our area are affected by COVID-19 or other illness, extended unemployment and anxiety."
Personal protective equipment deliveries last week included 2,000 face shields to Parker Jewish Institute for Health Care and Rehabilitation, in New Hyde Park, New York, and 1,000 face shields to RWJBarnabas Health Center in Oceanport. Other organizations that recently received face shields include the New Jersey State Police; Memorial Sloan Kettering in Holmdel; the Caldwell and Long Branch fire departments; Bayada Home Health Care in Philadelphia; and Matheny Medical Center in Peapack.
"We thank Bill Duerr and his team at Hatteras for their ingenuity and generosity in creating and delivering 2,000 face shields to Parker," said Michael N. Rosenblut, Parker's president and CEO. "Their donation is helping the entire Parker community stay safe in this very difficult time."
The GoFundMe page notes that many medical, dental and nursing facilities in the tristate region have been contacting Hatteras for face shields donations because their current supplies are depleted and they're finding shortages in other supply sources.
"Many employed in healthcare and public-facing jobs expect to return to work very soon, and desire face shields to protect themselves, their colleagues and consumers," the company said. "Hatteras is glad to do our part and fulfill requests for face shield donations."
To learn more about donating to the GoFundMe campaign, go here.
Verizon Expands Small Business Support
Verizon has announced an additional $2.5 million donation to small business support through the Local Initiatives Support Corporation (LISC), bringing the total funding of LISC's Verizon Small Business Recovery Fund up to a potential $7.5 million.
LISC, a national nonprofit that invests in affordable housing, economic development and jobs, is offering critical relief and resiliency-building support to small businesses facing immediate financial threat due to the COVID-19 pandemic, focusing especially on historically underserved communities.
"Small businesses are the economic backbone of our communities," said Maurice A. Jones, LISC president and CEO. "Thanks to Verizon's generous support, we are able to support entrepreneurs that have otherwise not been able to access relief programs – especially those owned by women, minorities and veterans – and in the process, protect the jobs and economic activity that are vital to the nation's long-term recovery."
Verizon and LISC also recently announced the first round of over 200 grant recipients from across the country that will each receive $10,000 to support their small businesses, helping them meet payroll, pay rent and address additional immediate operational needs.
A second round of grants, totaling up to $2.5 million, will be distributed by LISC with funds contributed by Verizon through its ongoing #PayitForwardLIVE weekly streaming series. In addition, Verizon has now committed $2.5 million more in funding to support a third round of grants from LISC's Verizon Small Business Recovery Fund.
"The overwhelming response received from the first round of applicants stressed the urgent need for additional funding to these businesses," Rose Stuckey Kirk, Chief Corporate Social Responsibility Officer of Verizon said in news release. "Verizon recognizes how valuable small businesses are and that the economic stability of our communities is based on their success. It's critical that we lean in and support these businesses so they can continue to sustain themselves during this unprecedented time of need."
Verizon has been rallying support for small businesses affected by COVID-19 through Pay It Forward Live, a streaming entertainment series, which airs Tuesday and Thursday nights at 8:00 p.m. on Twitter @Verizon, Yahoo, Verizon's Facebook and YouTube pages, Fios channel 501 and 604 and Twitch.
During the live events starring the biggest names in entertainment, viewers are encouraged to do what they can to support local businesses in their own communities by shopping online, buying a gift card to be used when businesses reopen, or ordering a takeout meal. Verizon will donate $10, up to $2.5 million, to support small businesses for each use of the hashtag #PayItForwardLIVE.
The series launched on March 26 with an intimate, at-home performance by Dave Matthews. Other stars who have performed include Billie Eilish, Alicia Keys, Luke Bryan, and more. The country-rock musicians in the Zac Brown Band are the featured artists on Thursday, May 7.