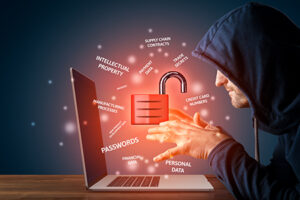 The United States has been breaking records in cyber-related threats since the onset of the COVID-19 pandemic, including a three-fold increase in phishing attacks, as cybercriminals take advantage of the confusion caused by the global health crisis.
According to CIO Dive, criminals are exploiting the United States' uncoordinated national response to the pandemic to craft cyberattacks. Publicly disclosed security incidents during the first quarter of 2020 increased 61% in the U.S. compared to last four months of 2019.
Now as more employees are working from home, cybercriminals are using phishing emails with pandemic themes. These scams attempt to trick employees or their family members into clicking on bogus links about Small Business Administration loans, COVID-19 testing, and other pandemic-related topics, according to a July security report from McAfee.
Ransomware attacks have declined in 2020, but criminals have quickly pivoted to cloud threats. Nearly two-thirds of malware was delivered via the cloud, compared to traditional web malware according to Netskope Cloud and Threat Report. Cloud-based applications most commonly targeted by malware include Microsoft Office 365, OneDrive for Business, Sharepoint, Box, Google Drive and Amazon S3.