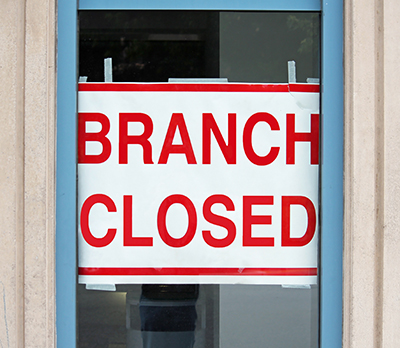 Advancements in technology and greater access to the internet could lead to the extinction of local bank branches by 2034 if current trends continue, according to a recent fintech study.
Self Financial Inc., a fintech aimed at an underbanked population with thin or flawed credit, commissioned the study, which said 5,400 bank branches in the United States have closed since 2012, a decline of about 6.5% since 2012. In New Jersey, the percentage decline was 5.98%, the study said.
The state with the most bank closures was Florida, which lost 529 branches between 2012 and 2018. Maryland shed the greatest percentage of its branches (12.62%) in that same time period.
According to the study, current trends suggest that the number of physical banks nationwide could fall to fewer than 16,000 by 2030, and that all bank branches could close by 2034.
The study also found that although the number of Americans opening online-only bank accounts is increasing, 89.2% of Americans still use a banking company that has physical branches. Access to cash (53.7%) and in-person advice (50.4%) are the two most popular reasons people use physical banks, followed by being able to deposit cash more easily (38.7%), the study said.
Self's research covers the 2000 – 2018 time period and does not factor in whether the coronavirus public health crisis in 2019 and 2020 has been an accelerator for bank branch closures.
To read more about the study, go here.