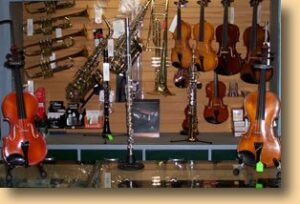 In May 1942, the Irving Berlin/Bing Crosby song "White Christmas" was released and would go on to become one of the greatest selling singles of all-time.  That same year, Lou and Rose Viel opened Lou Rose Music Center (LRMC) in Edison, and today, almost 75 years later, they are still bringing the joy of music to many in central New Jersey.
It would not do them justice to call LRMC simply a music store, although musical instrument sales are a big part of what they do.  LRMC caters to customers pursuing their interest in music by offering lessons, musical instrument rentals and repairs.
LRMC has a full line of instruments for purchase.  The traditional school band instruments are all there: flute, trumpet, trombone, clarinet, saxophone and French horn.  So are the more progressive instruments for rock & roll bands: guitar, electric guitar, electric bass, keyboards and drum sets.  The store includes more exotic instruments like mandolins, banjos and accordions (in fact, Lou Viet was a noted accordion player).  They also offer a full line of amplifiers and public address systems for sale as well.
In addition to sales, LRMC offers rentals.  Learning to play a musical instrument often starts when one is very young, and renting allows people to explore what's the best instrument to play before formally purchasing one.  LRMC offers  a wonderful program with flexible rental arrangements so you can "try before you buy."
While rental and purchase of a musical instrument is a straightforward process, learning to play it is another story.  I can personally attest to that with years of playing the trombone starting in about 6th grade.  Beyond music education at school as part of a curriculum, private music lessons (solo or small group) are truly essential if you really want to learn to play and get the most enjoyment doing so.
LRMC is particularly noted for their outstanding staff of music teachers, especially for those students who are serious about their musical careers.  Most of their teachers are "gigging musicians" who have real world playing experience to back up their training.  Anyone who has ever played a musical instrument knows that well beyond the skill and technique are the psychological elements of keeping one's poise and staying relaxed in the face of stress or any number of potential distractions while playing.  These "real world" teachers can be especially valuable here.
Also, musical instruments need to be maintained (often tuned) as well as repaired and LRMC is well known for both.  In fact, almost all musical instrument repairs are done on-site with their skilled staff.  This is one of the true advantages of dealing with a company that's been in business for close to 75 years:  shared knowledge, guidance and training passed down from generation to generation.
Finally, let me add that playing a musical instrument provided me with many great experiences that I still treasure today.  From my days in the high school marching band I was able to travel to Europe one summer playing concerts at such venues as the Plaza Del Marco in Venice, Italy, as well as stand on the outfield at Yankee Stadium and perform the national anthem before a game.  I continued in college playing in the pep band, with many long bus rides to other campuses for spirited athletic events.  More than anything, I was part of a musical community with many friends, some of whom I still stay in touch with today many years later.
Congratulations to Lou Rose Music Center, an NJBIA member since 2003, for all their success and for the joy of music they've brought to so many for so long.  Visit their website for more information.
Lou Rose Music Center is just one of 20,000 companies that comprise NJBIA's membership, which is very diverse with representation from an amazingly large and wide spectrum of fields, industries and professions. Look for more unique stories about NJBIA members in future issues of "Beyond 10 West Lafayette," NJBIA's membership blog.