Businesses that range from New Jersey's largest utility to its smallest entrepreneurs are stepping up throughout the state to provide much-needed solutions to help healthcare workers, their own employees and their communities cope with coronavirus pandemic hardships.
PSEG Donates Respirator Masks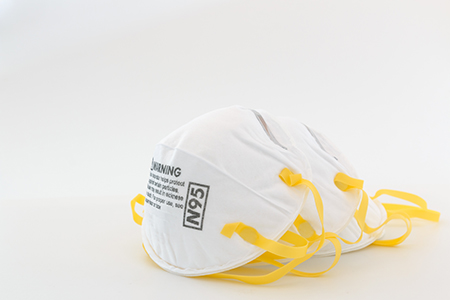 PSEG, which powers 55% of the state's electric customers, said Wednesday it is donating over 50,000 N95 respirator masks to one of New Jersey's largest health care systems to help the medical community facing shortages of protective equipment. The masks are part of PSEG's own inventory of emergency supplies.
"We recognize the dire need that the medical and first responder communities are facing, and we are eager to share our supplies," PSEG Chairman, President and CEO Ralph Izzo said. "This critical staff is on the front lines in the drive to contain the coronavirus outbreak, and we want to do whatever we can to support their lifesaving mission."
PSEG said its employees still have enough personal protective equipment (PPE) to respond to emergency situations. PSEG said it will continue to evaluate its own inventory relative to its needs as a first responder to identify future opportunities to support healthcare workers.
On Monday, NJBT previously reported that Newark-based Prudential said it had donated 153,000 face masks – including 75,000 N95 respirators – for healthcare workers in New Jersey, and committed $1.5 million in funding for local businesses and community support, both in the U.S. and internationally.
Restaurant Owners Go Extra Mile for their Employees
Bryan Morin, who owns the Belmar restaurant Federico's, took out $50,000 credit line to continue to pay his employees who can't work during the coronavirus, according to an NJ.com story by Steve Politi.
When Gov. Phil Murphy recently ordered restaurants to close their dining rooms and limit their business to takeout orders only as part of the social distancing response to the coronavirus health crisis, Morin knew he faced a steep drop in business and no longer needed most of his 20 employees. But rather than hand them a pink slip, he went to his bank and took out a $50,000 line of credit so that could continue to pay them for the next two months.
"My father told us a long time ago: You've got to take care of your employees first, because without those employees, you don't have a business at all," Morin told NJ.com. "I definitely owe them a debt — even if it means I might go into debt."
In Essex County, Demetri Malki, the owner of DeNovo European Pub in Montclair, said in an Instagram post that he is now donating 100% of the restaurant's sales to his employees.
"As of Tuesday March 24th @denovomontclair will be donating 100% of our sales (to make it clear not our profit but our actual sales) to make sure all our employees are able to pay their rent, their utilities, their medical expenses, their nutrition!" Malki said in his Instagram post.
DeNovo, like all New Jersey restaurants, is restricted to takeout and delivery orders to enforce the social distancing requirements put in place due to the coronavirus. "It is a tough time for everyone and as a community we need to come together and help each other through this!" Malki said on Instagram.
Newspaper Carrier Delivers Kindness
NJ.com's Steve Politi also reported on the Star-Ledger newspaper carrier who is delivering groceries to his elderly and homebound customers during the coronavirus health crisis.
Greg Dailey's primary business, a framing store called Frames on Main in Chatham, has been shuttered as a non-essential retail establishment by the governor's executive order. Now he's using all his free time to bring groceries to the elderly people he deals with on his side-job: a 725-house newspaper route that he covers every morning in his Ford Focus.
"Times are tough. Some of us should not be out of the house at all," Dailey told NJ.com. "They need produce. They need medicine. They need toiletries. I told one of the gentlemen, 'I can stop at the liquor store if you want. His eyes went wide.'"
Customers pay him only for the cost of the items he buys, not for the time he spends shopping or delivering the groceries. The effort has become a family affair, with his wife Cherlyn, his three kids — Erin, Sean and Brian — and his mother-in-law Carol Krohn all involved, NJ.com said. They used a Google document to keep the groceries organized, with every item highlighted on a receipt. They sort the items into separate bags in their dining room, and for safety, everything is cleaned with disinfectant wipes.
---
This story is part of a continuing series highlighting the unique and uplifting ways New Jersey business owners are responding to the unprecedented challenges brought on by the coronavirus pandemic. If you have a story to share, please email it to communications@njbia.org.