As New Jersey businesses face unprecedented challenges brought on by the coronavirus pandemic, NJBIA is highlighting some of the unique and uplifting ways businesses and nonprofits are responding across the state. Share your good news story with us on social media at #NJBIAtogether or email us at communications@njbia.org.
---
Struggling Residents in 6 Counties Can Apply for COVID-19 ALICE Recovery Funds
Low- and moderate-income workers in northern New Jersey who have experienced a loss of income due to the COVID-19 pandemic can now apply online for emergency financial assistance from the United Way of Northern New Jersey's ALICE Recovery Fund.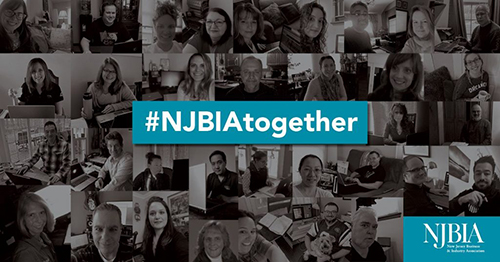 The fund has been established in partnership with United Way of Hunterdon County to address the needs of ALICE (Asset Limited, Income Constrained, Employed) households and those in poverty who have been impacted by the COVID-19 pandemic.
"At United Way, we are committed to getting financial assistance into the hands of our most vulnerable ALICE neighbors — many of whom are on the front lines of this crisis as our supermarket workers, home health aides, office cleaning staff, and child care teachers," said United Way of Northern New Jersey CEO Kiran Gaudioso.
Online applications are available at www.alicerecovery.org for income-eligible residents of Hunterdon, Morris, Somerset, Sussex and Warren counties, as well as suburban Essex County, which includes the Caldwells, Cedar Grove, Essex Fells, Fairfield, Glen Ridge, Livingston, Millburn-Short Hills, Montclair, Roseland, and Verona. Eligible households will receive a minimum financial award of $500.
Applicants will need to provide documentation that their household income qualifies as falling below the ALICE Threshold prior to the pandemic. In addition, applicants must show a loss of income due to the pandemic, beginning Feb. 1, 2020.  See the online application for complete income guidelines.
The fund was launched with a generous seed donation from the New York Jets. Top philanthropic community leaders ExxonMobil and Robert Wood Johnson Foundation have also joined the effort, recognizing the importance of supporting local ALICE families.
ULI Northern New Jersey Donation Supports Healthcare Workers at RWJ University Hospital
The Urban Land Institute (ULI) Northern New Jersey, a multidisciplinary real estate nonprofit research and education organization, recently donated $500 worth of dinners to healthcare workers at Robert Wood Johnson University Hospital in New Brunswick.
Working with Steakhouse 85, located at 85 Church St., in New Brunswick, ULI NNJ's donation provided 45 chicken, salmon and pasta dinners to front-line healthcare workers battling COVID-19 at the hospital.
"As an organization focused on creating healthy and thriving communities, being there for our communities when they need it most is at the heart of our mission statement," aid Mara Winokur, AICP, PP, Senior Director, ULI Northern New Jersey and Westchester/Fairfield.
"Through this donation, we hope that we can show our support to those from our community who are making tremendous sacrifices on the front lines of the fight against COVID-19 while also supporting a local business that is working hard during these incredibly difficult times," Winokur said.
The Urban Land Institute, a global nonprofit with 40,000 members, provides responsible leadership in the use of land to enhance the total environment and sustaining thriving communities worldwide.
Epion Health Responds to COVID-19 Pandemic with Free Software Platform
Epion Health is offering its PreVisit mobile check-in and patient messaging platform, along with its COVID-19 screening tool, for free to physician practices and health systems not currently using Epion's mobile platform.
Epion is among the few healthcare software companies providing access to new providers at no cost during the COVID-19 crisis. Mount Carmel Health System, part of Trinity Health, is among the providers who have taken Epion up on the offer, calling it a "game-changer" for its telemedicine program.
"The COVID-19 pandemic forced us to build a telehealth program for our practices in a very short period of time," said Nicole Nelson, regional director of MGPS Revenue Cycle Site Operations at Mount Carmel Health System. "We were struggling with how to create a check-in experience that worked for patients and our staff.
"Epion stepped in and offered the PreVisit check-in solution," Nelson said. "The Epion team totally delivered and was able to accommodate our accelerated timeline. This has been a game-changer for our telemed program."
Epion's updated PreVisit platform gives providers seamless remote triage, as patients can preregister from any device, provide essential information and be screened for coronavirus symptoms using the questionnaire provided by the Centers for Disease Control and Prevention.
Patient information is automatically captured and integrated in real time into the electronic health record, putting data exactly where it needs to go without re-entering data. Customized text messaging allows practices to message patients before telehealth and in-person visits, setting expectations and informing patients and families in the midst of the changing situation.
"Our team has pivoted fast to optimize our patient engagement solution to address the immediate needs of the COVID-19 crisis," said Joe Blewitt, CEO of Epion Health. "Our clients are on the front lines of this pandemic. We're proud to partner with practices like Mount Carmel Health System during this evolving situation to remove barriers to safe healthcare delivery."
Healthcare providers can go here to learn more about Epion's COVID-19 support offer.