The New Jersey Business & Industry Association today revealed the 12 winners of its annual Awards for Excellence competition honoring companies that have done outstanding work to improve New Jersey's business climate, environment, communities and employees' lives.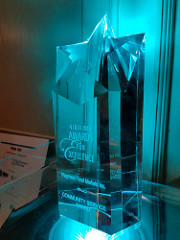 A total of 13 awards will be presented on Wednesday, October 18, at the Bridgewater Marriott Hotel to 12 winners who are being recognized in four categories: Business Success, Environmental Quality, Community Service, and Outstanding Employer. This year, one of the 12 honorees—Crum & Forster—won awards in more than one category.
"The Awards for Excellence allow NJBIA to honor dynamic companies whose energy and vision make New Jersey a better place," said NJBIA President & CEO Michele Siekerka. "We congratulate these companies on their outstanding achievements."
Media interested in covering NJBIA's Awards for Excellence presentation should contact Bob Considine at (609) 858-9502.
The 2017 AFE winners in the Business Success category are:
The 2017 AFE winners in the Environmental Quality category are:
The 2017 AFE winners in the Outstanding Employer Award category are:
$3,000 per person, $60,000 tuition-reimbursement program and has plans to expand up to $120,000 in 2018.  A recent company survey shows employees feel they are more involved and have better opportunities for career development. Learn more.
The 2017 AFE award winners in the Community Service category are: