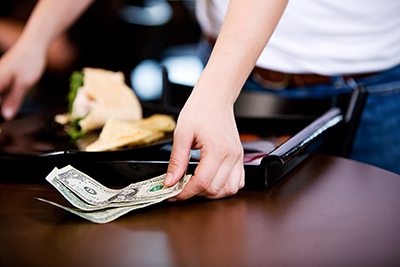 Regulations that prohibit managers from keeping tips and allow employers to include non-tipped workers in certain tip pools will take effect Friday as scheduled, but other portions of the Trump administration rule will be delayed again until Dec. 31, the U.S. Department of Labor said this week.
The eight-month delay allows the US DOL to revisit provisions which address monetary civil penalties, as well as the application of the Fair Labor Standards Act's tip credit to tipped employees who perform both tipped and non-tipped duties.
"Tipped workers are among those hardest hit amid the pandemic, making these essential front-line workers a priority for the Wage and Hour Division," Wage and Hour Division Deputy Administrator Jessica Looman said in a statement on Wednesday.
The portion of the rules that take effect April 30 will:
Prohibit employers from keeping workers' tips, regardless of whether the employer takes a tip credit.
Allow employers that do not take a tip credit to include nontipped workers—such as cooks and dishwashers—in tip pools.
Require employers who collect tips for tip pools to distribute tips fully no later than the regular payday for the workweek or pay period in which the tips were collected.