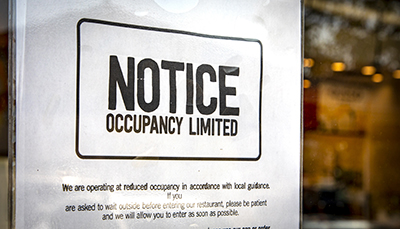 A virtual town hall brought together leaders of over 100 business organizations on Thursday to discuss COVID-19 challenges affecting New Jersey small businesses and nonprofits, the difficulties unique to specific industries, and what actions state officials must take to help them survive.
The town hall-style via video conference was hosted by NJBIA President & CEO Michele Siekerka and organized the New Jersey Business Coalition, which includes more than 100 business organizations and nonprofits from all over New Jersey. Members of the news media and legislators were also on the call.
"As we get ready to enter the eighth month of COVID and do not see an end in sight, it becomes even more important to ensure that New Jersey businesses and nonprofits can sustain," Siekerka said. "Many have only been opened with limited capacity since July, and we know that businesses simply cannot sustain on limited capacities."
Mark Bernard, general manager of the restaurant Charlie's of Bay Head, took issue with the governor's executive order that limits indoor dining to 25% of the restaurant's capacity, when big box stores such as Costco that also have places for people to eat indoors are not subject to the same restriction.
"It is completely unfair and discriminatory in my eyes that the government is doing that and limiting us," Bernard said. Restaurants can't offer outdoor dining options as the weather gets colder, and many won't be able to survive if their only source of income is indoor dining at 25% capacity, he said.
"Winter is coming and they know they are in for some tough times ahead and they're not going to be able to make it," Bernard said. "We've heard 30% to 40% of restaurants in the state and in the country will probably go out of business within the next year."
Nonprofit leaders and child care business owners also said government regulations might put them out of business.
Paul Kieltyka, president & CEO of the Summit Area YMCA, said his organization is on the front lines of providing child care for essential workers and combating food insecurity in the community. However, government-ordered restrictions on health and wellness centers prevents the YMCA from fully bring back its membership and running youth programs.
"Out of the 50 states, the 25% capacity (in New Jersey) is the lowest in the country," Kieltyka said. "Our neighbors such as Pennsylvania have 50% capacity. New York is higher, Connecticut is higher. We need to do better."
Bridget O'Brien, director of SuperKids Child Care & Learning Center in Summit, said the child care industry is facing a "one-two punch" from COVID-19's impact and from the Murphy administration's push for universal pre-kindergarten, which could cause a 40% loss of business for child care centers when preschoolers leave to for classrooms run by local boards of education.
"COVID is only the first punch," O'Brien said. "Under the best conditions we operate with very small margins, we are labor intensive, and we have substantial fixed costs. Some studies estimate as many as 70% of child care centers in the nation could close without intervention."
O'Brien said the stabilization grants based on capacity that were announced by Gov. Phil Murphy are insufficient to address the additional costs child care centers have because of COVID-19.
"We estimate that these grants will only delay closings for about two weeks because they equal less than (the cost) of the additional staffing mandate for less than a month," O'Brien said
New Jersey's 4,100 child care centers employ 87,000 people and contribute $4.1 billion to the state's economy, O'Brien said. If 40% go out of business due to COVID-19, the impact will be felt beyond working parents and their employers.
Frank Jones, a partner at Mints Insurance Agency in Millville, which counts 12,000 businesses as its customers, said another challenge for businesses is the new worker's compensation law that expands employer liability by creating the presumption that essential workers contracted COVID-19 on the job.
Dan Boutureira, of the New Jersey Convention & Expo Center in Edison, said that 95% of the business that hold shows inside his facility are small Mom-and-Pop operations. The indoor occupancy restrictions the state has issued do not take into account that facilities like his can create aisles 20 feet wide, as opposed to the 6-foot wide aisles in most retail establishments.
Alan Sobel, the president of the New Jersey Society of Certified Public Accountants, agreed that the state's "one-size-fits-all" approach has created unnecessary obstacles for many businesses.
"As I see it, the state needs to issue basic standards of safety to ensure our public health, but then they must allow business owners the flexibility to develop the ultimate open-for-business solution that works for their unique situation," Sobel said. "The business owners I know and work with are very responsible and take the safety and well-being of their employees and customers very, very seriously."
To view the entire virtual Town Hall, go here.