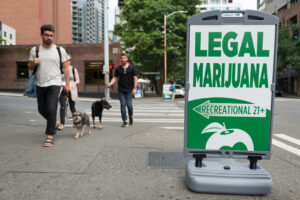 New Jersey took its first steps toward legalizing marijuana Nov. 26 when both the Senate and Assembly appropriations committees voted to release bills that would not only expand access to medical marijuana but legalize recreational use of the drug as well.
If enacted into law, New Jersey would become the 11th state to make it legal to use marijuana for any reason, though it would still be illegal under federal law.
The good news for employers is their right to a drug-free workplace will be maintained.
Before releasing the bills, lawmakers made it clear that legalization did not mean marijuana use in the workplace would be OK. NJBIA had requested that any legalization initiatives protect employers' right to maintain a drug-free workplace, and the committees approved amendments that do just that.
"NJBIA's primary concern with the cannabis legislation being considered by the Legislature has been workplace safety issues," NJBIA Vice President Michael Wallace said in testimony submitted to the committees. "I want to thank committee members for understanding the importance of the workplace safety issue and addressing it."
The amendments mean employers will still be able to prohibit employees from being at work under the influence of marijuana even if it is otherwise legal. Employers will also be able to prevent use of medical marijuana in the workplace.
Neither provision gives employers any rights they do not already have under existing law. For years, employers have been able to prevent use of illegal drugs or alcohol, and even legal medications if those are being abused.  If an employee is suspected of being under the influence, the employer can require a drug test and take appropriate action, including termination of employment.