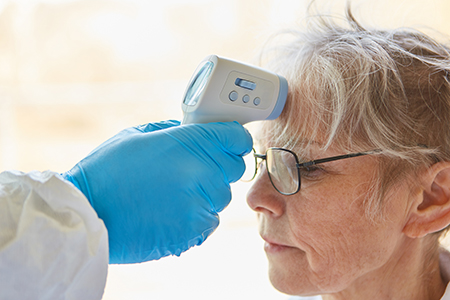 Although only three types of industries in New Jersey are currently required to conduct COVID-19 health screenings of workers before reopening, other employers may want to consider temperature checks at the door as well, if only to allay employee fears now and limit potential exposure to litigation later.
"You are permitted to do (health screenings) and, in some cases, they are required," attorney Molly Hurley Kellett told more than 300 attendees during NJBIA's virtual webinar on Tuesday.
Kellett and her colleague, attorney Marianne Tolomeo, who both specialize in labor and employment issues at the Connell Foley law firm, told webinar viewers that to date New Jersey is requiring temperature checks and health screenings by businesses that employ agricultural workers, restaurant and food service workers, and employees working at personal care businesses, such as salons.
However, other types of businesses can choose to take these precautions too, provided they implement COVID-19 health screenings in a confidential and non-discriminatory manner. Knowing that colleagues have been screened for COVID-19 will make returning employees less anxious and help keep them safe. Health screenings also benefit the employer in the long run by reducing the risk of future lawsuits brought by employees alleging that they contracted COVID-19 at work.
The federal Equal Employment Opportunity Commission (EEOC) has said that temperature checks and screenings are permitted because COVID-19 presents a threat to other employees. However, businesses must make sure that all employees are subject to the same guidelines regardless of age, race or religion. Singling out only employees over age 65 for testing, for example, would be discriminatory, Kellett said.
Screenings can be done off site before the employee reports to work, Kellett said. Employees can voluntarily self-monitor their own temperature and report any readings exceeding 100.4 degrees to their supervisor, or report any COVID-19 symptoms.  There are also several phone apps available, such as "ProtectWell" from United Health Group, that employees can use to report their temperature, symptoms and potential exposure to COVID-19 in order to receive a green light to come to work.
"Some employees may push back a bit on sharing healthcare information about themselves with an app so you might want to be aware of what the company that's maintaining the data is doing with that data before you engage with a vendor," Kellett said. But the benefit of using some of these apps is that they can "streamline the process" by referring any employee who is flagged for a fever or COVID-19 symptoms directly to testing sites and then providing those test results to the employer, she said.
Employers who adopt on-site temperature checks and health screenings, which can include questions about possible COVID-19 symptoms and exposure to others who are ill, should make sure that all medical information collected is confidential.  For that reason, a management-level employee or a third-party medical worker, such as a nurse, should be the screener, not the building's security guard, Tolomeo said.
If a business has large numbers of employees all reporting to work at the same time, it should consider staggering arrival times to avoid bottlenecks that make it more likely that co-workers will overhear confidential health information during the screening process.
Record-keeping is a critical part of confidentiality requirements.  Employees' medical information must be kept in a separate file from their regular personnel files.
Screeners should be provided with appropriate personal protective equipment such as face masks, gowns and gloves, and be trained on properly reading thermometers, sanitizing and cleaning equipment and the need to respect confidential information. Health insurance companies are required by the state to pay for medically necessary COVID-19 testing, but if an employee does not have health insurance, then the business should pay the cost for any testing it requires, Tolomeo said.
Businesses have the right to restrict business travel, but not an employee's personal travel. If there are concerns that an employee's personal travel to a "hot spot" region with a high number of COVID-19 cases poses a risk to the workplace, the employer could require those employees to stay out of the workplace for 14 days. Under this scenario, working remotely from home might be an option.
To watch the entire, webinar, go here.
---
Update: On June 17, the day after this webinar was recorded, the U.S. Equal Employment Opportunity Commission issued guidance stating employers may not require COVID-19 antibody testing of their employees as a condition of returning to work.  Antibody tests determine if an individual has had COVID-19 in the past, and a positive result does not necessarily mean a current infection. Employers are still permitted to require employees to undergo COVID-19 viral testing that screens for active infections, as discussed in the story above.