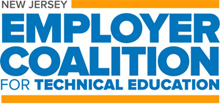 Career Technical Education school districts provide a pipeline of skilled workers to New Jersey employers, offering high school students paths to lucrative careers that do not necessarily require a four-year college degree.
There have been a number of developments among the state's county vocational-technical schools this year. You can read about them in today's newsletter from the New Jersey Council of County Vocational-Technical schools.
In this edition:
County vocational-technical schools plan to launch new programs this fall on cybersecurity, digital media, health professions and heavy equipment operation;
CTE culinary students wow judges at the 7th annual cook-off challenge at the New Jersey Association of Counties annual conference;
More than 120 county vocational-technical school students will represent New Jersey at the national SkillsUSA competition in Louisville, KY next month; and
The latest developments on the Securing our Children's Future Bond Act to expand career and technical education opportunities at county vocational-technical schools and county colleges.
Key to the success of CTE programs is the continued partnership with business owners and operators like Jim Mahlmann, the managing partner at NetCetra, LLC.
"Technology drives everything today. I don't care what your company does," he said. "Even if you sell insurance, if you don't have technically trained people, you're going nowhere."
Mahlmann does his part by working with the Ocean County Vocational-Technical School (OCVTS). He is also a founding member of the NJ Employer Coalition for Technical Education, and was recently named chairman of the OCVTS Foundation.