Employers at a virtual NJBIA Health Affairs Policy Committee meeting questioned Murphy administration officials for details on when more New Jersey businesses can reopen and what COVID-19 testing precautions need to be followed in their workplaces to keep employees and customers safe.
"As we start looking at the reopening of the economy, testing is a big, big issue," Andrea Martinez-Mejia, chief of staff at the New Jersey Department of Health, told NJBIA's Health Affairs Policy Committee members during a Zoom video conference call on Friday.
"We are currently working very closely with folks at our sister agencies on developing a strategy for the State of Jersey," Martinez-Mejia said. "We know that testing is one of those metrics that guides some of the decisions as to when we open the state."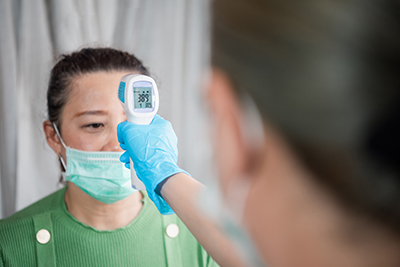 Martinez-Mejia said that Health Commissioner Judith Persichilli and Gov. Phil Murphy are working with experts on resolving testing issues and will be presenting a strategy soon that will answer employers' questions on what testing should be done and what type of tests to use.
"We are working with the experts to come up with the strategy and the answers for those questions," Martinez-Mejia said. "And we will address other recommendations for employers as well – what to utilize in terms of testing, temperature-checking and all the other guidelines that might be needed to keep the employers and employees safe."
Human Services Commissioner Carole Johnson pointed out the State of New Jersey is an employer too and has many of the same COVID-19 related safety concerns as the healthcare providers who were participating in the virtual conference call.
"As our task force talks through the development of the testing strategy … we're also thinking through it as employers ourselves who run large buildings and small buildings and have contracts with many of you and others to deliver services," Johnson said. "So we are very invested in making sure that we have a thoughtful and a workable approach."
Martinez-Mejia noted the governor has said there are six steps that need to be taken under his roadmap to reopen the economy and the first is a sustained reduction in new COVID-19 cases. The state is starting to see a decline in new cases in the northern region, but not in the south.
"We also have to implement, as part of any reopening, a robust contact tracing tool to follow up not only on testing but also those individuals who are positive and who they've had contact with," she said.
Responding to a questioner who noted New Jersey's current 25% unemployment rate and the need to reopen the state's businesses so people can go back to work, Johnson stressed that the Murphy administration is "laser-focused" on the public health crisis' economic impact.
"We are close to having those public health metrics to identify where we are and where we feel most confident that people can feel confident about their return to work," Johnson said. "We are laser focused on the challenges happening on the economic side and how we ensure that public health needs are met so that we can sustain our economic needs. Know that the sense of urgency on the economic side is critical for the governor and for us."