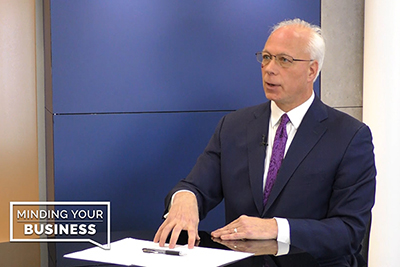 New standards that will be formally proposed by the state Department of Environmental Protection this spring will result in significant, negative economic impacts to the state through added costs and burdensome restrictions, according to NJBIA Vice President of Government Affairs Ray Cantor.
On this past weekend's episode of NJBIA's 'Minding Your Business,' Cantor also said many of the New Jersey's Protecting Against Climate Threats (NJ PACT) rules relating to severe land use restrictions are based on "speculative and uncertain science" for projected sea level rise as far as 80 years out, with only a 17% likelihood of occurring. 
"We think the science is weak on this," Cantor said. "When you start projecting sea level rise on top of (climate change predictions) and you're going out 80 years – even the author of the report said it's  an area of deep uncertainty. 
"We think it's much more practical and much more responsible from a regulatory perspective to go out to 2050, or 30 years out, which is a normal horizon to make these types of planning decisions." 
Some of the land use impacts of the NJ PACT rules, according to Cantor, include: 
Nearly half of the state will be designated a flood zone and subject to regulation, even if lands have never flooded. 
Most of the state will be subject to 500-year flood standards without any scientific basis for doing so. 
Buildings along the coast, and even far inland that have never flooded, may have to be elevated by 5 feet. 
A retreat from urban centers such as Hoboken, Jersey City, and Atlantic City. 
 On the air regulations front, Cantor also explained that new emission limits and efficiency standards for Electric Generating Units under NJ PACT would result in the closure of certain gas-fired power plants. 
"That will limit the amount of the electricity we're able to generate," Cantor said. "And unless we're able to replace that with clean energy immediately, we may wind up importing dirtier energy from Pennsylvania to meet that demand." 
In addition to new limits on stationary sources, Cantor details some of the costly restrictions put on mobile sources, including the adoption of the California Advanced Clean Truck rule and fleet reporting. 
"If you follow the governor's plans to electrify both the building and transportation sectors, you're going to have to triple the amount of energy we produce in New Jersey," Cantor explained. "We don't have solid plans right now on where that's coming from. 
"While we support solar and we support wind, those are not going to be plentiful enough to make up for all this electrical demand." 
The entire interview with host Bob Considine can be found here.  
NJBIA's 'Minding Your Business' is a weekly TV show that can be viewed at 9:30 a.m. on News 12+ Saturday and Sunday. To see all past episodes of NJBIA's "Minding Your Business," click here.