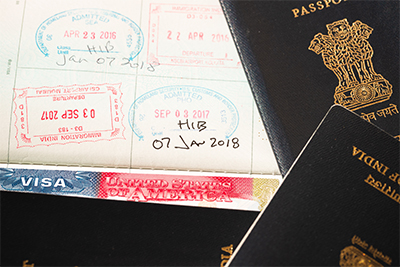 The Department of Homeland Security is proposing a rule change that will require employers seeking H-1B visas for skilled foreign workers to pay a $10 registration fee for every registration petition they submit for H-1B visas, subject to the annual 85,000 per year cap.
The rule, which was published Sept. 4 in the Federal Register, requires employers seeking worker visas to file a preliminary electronic registration with U.S. Citizenship and Immigration Services (USCIS) before becoming eligible to apply for the visa. Only the registrations selected by the agency will proceed to the application process, which can cost thousands of dollars per visa in government fees and legal expenses.
A public comment period on the proposed new fee is open until Oct. 4. Comments can be submitted electronically at the Federal eRulemaking Portal http://www.regulations.gov.
DHS has said the registration fee will save employers whose registration petitions are not accepted the expenses they would otherwise incur later on in the application process. However, as Valerie Bolden Barrett points out in HR Dive, employers petitioning for H-1B visas are already subjected to additional fees when filing Form I-129.
"USCIS maintains a list of Acts and Public Laws requiring extra fees for H (H-1B visas for skilled workers) or L (L-1 visas for internal company transfers) nonimmigrant petitions," Barrett wrote.
Employers are already dealing with headaches regarding the H-1B process, Barrett noted.
"As of June 2019, H-1B petition denials were at 32% in the first quarter of Fiscal Year 2019, according to National Foundation for American Policy (NFAP) research," she wrote.