This week, NJBIA Vice President of Government Affairs told an Assembly committee that major policy decisions relating to climate change and development that will have significant impacts on New Jersey's economy should be based on sound science – and should not be solely determined by the state Department of Environmental Protection (NJDEP).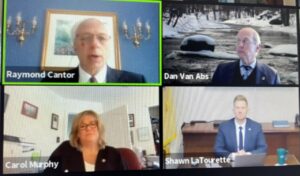 Cantor's comments to the Assembly Special Committee on Infrastructure and Natural Resources on Tuesday came as the NJDEP is about to propose rules that will create greater land use restrictions based on a single Rutgers report which projects sea level rise as far as 80 years from now, with only a 17% likelihood of occurring.
Cantor said half of New Jersey would be in a flood zone if these rules are codified.
"Major policy decisions relating to climate and its impact need to be made by the Legislature, the branch whose job it is to make policy for the state," Cantor told the committee. "The decisions are too important to allow regulators alone to hold sway. The Legislature needs to determine how much risk we should take, where we spend our resources, and how we prepare for a changing world.
"I also want to caution you not to put all your faith in one report, one expert, or to fall into the trap of the notion of consensus or settled science, especially when it comes to climate change. Knowledge is constantly developing, assumptions are constantly being challenged, and our understanding of this complex area is constantly changing."
Cantor said that while climate change is happening, climate science is an "area of great uncertainty" and that rising seas in New Jersey are also relative to the fact that a large part of our state has been sinking for thousands of years.
With that, Cantor said, there must be a more comprehensive approach to adaptation, which includes resiliency planning.
Cantor also said New Jersey should make sure it is using the best science before new land use regulations are made and infrastructure decisions are made. The International Panel on Climate Change (IPCC) is expected to issue a new assessment this year.
Additionally, Cantor said, IPCC projections on the West Antarctic ice sheet melt differ greatly than the Rutgers report, entitled "New Jersey's Rising Seas and Changing Coastal Storms: Report of the 2019 Science and Technical Advisory Panel."
"The Rutgers report inappropriately uses high emission scenarios in its averaging RCP8.5 (representative concentration pathway), to predict this massive ice sheet melt," Cantor said. "RCP8.5 is now generally considered to be implausible, if not impossible. These predictions are also partly based on expert judgment and are inconsistent with other accepted analysis on ice sheet melt. The (Rutgers) report is no longer considered the best science."
To read Cantor's full testimony, click here.